Week 44: down 2 pounds (-42.5 total!)
Well, well…I finally managed to get an HMD R & D done on time.  Kudos to me, kudos to me!  And yet, 'twas ever so easy, considering I had some great suggestions.  Aaah, my lovely beauties, my Hot Man Dieteers, for whom does my heart beat?  It beats for thee, for you all make my life so easy, so effortless, so very stinking HOT!  And so if you request Hot, I shall provide it.  If you dedicate Hot, I shall comply.  It is the least I can do!
This month we have a gentleman, a geek and a stud.  Which one is Hot, Hotter and Hottest?  You decide!
Let's start with this request from L. in New York City.  (By the way, if you feel the earth shaking it is because my loins are afire and aflame…it is Opening Day at Yankee Stadium, my baseball season has officially begun, and I am already o'erwhelmed and
o'ercome with Hotness…Here we go Yankees, here we go!  Clap, clap!)  L. writes, "Seriously, the first person I thought of (who I don't think you've covered already) is the kid that plays Betty's boyfriend on Ugly Betty.  He's hot in that boyish geeky way (have you guessed that I like the geeks? tee hee!)  I just love watching him- maybe I'm just in love with his character- and there was one episode when he took his shirt off… Um, Hello!  There is some major hotness under that accountant shirt and tie.  So there you go, my first HMD request: Christopher Gorham".  You know, I love me some Henry, too.  He pulls of Hot Geek better than anyone else on tv right now, save for that Hot Bald Dude who hosts Cash Cab - anyone know that dude's name?  Anyhoo, I couldn't agree with your choice more, L. from NYC (Go Yanks!).  And yes, you clearly like the geeks…but tell your hubby you said it, not me!  P.S.  Here's the topless moment referenced earlier.  Holy crap!  I wish my accountant looked like that!  Hell, I wish my geeky neighbor, whom I suspect harbors a slight crush on Her Hotness, looked like that.  Wait - maybe he does…
Next up we have a dual request  - E. from Long Beach and T. from Echo Park sent a tandem request for " the hot guy who plays Kirby on Lipstick Jungle".  Apart from my surprise that someone actually watches Lipstick Jungle - seriously, it looks kinda crappy,
although Brooke Shields looks FABULOUS, you go girl! - I have to admit that I had no idea who in the hell this Kirby kid was.  And me not knowing Hotness is like a flower not knowing the sun…or something like that (I suck at analogies, don't laugh!).  But I found him, oh yes, Her Hotness found the Hotness that is Robert Buckley.  He's young ya'll, so young.  My heart hurts when I yearn for someone whose birth date includes the number eight where the number seven or the number six should be.  And yet, my lady parts know not of age and are in complete agreement with E. and T. that this young 'un might just be the second coming of Scott Speedman…and you know how much we LOVE Scott Speedman…when does this Lipstick Jungle air, anyways?  Maybe I shall give a try after all…in the name of research, of course…my, oh my…I must open a window…
My last request comes from A. from Venice, long time reader, second time requester.  She didn't write but instead made her request over the phone.  She asked if Don Cheadle had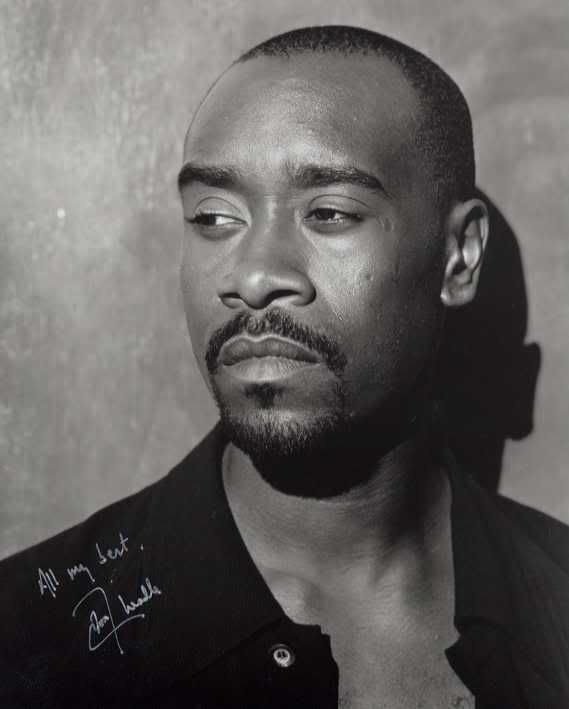 ever been featured.  I was ashamed to admit he had not.  We then launched into a ten minute conversation about Why Don Cheadle Rocks.  Seriously - Don Cheadle rocks!  Why does he rock?  Let me count the ways - 1) he's undeniably one of the most talented actors working in Hollywood today, 2) he is held in such high esteem by his peers that Crash director Paul Haggis allegedly cast Don first, knowing that other high caliber actors would sign on for the chance to work with him, 3) he managed to pull of the Rick James braids 'n beads look (for a 'lil bit) in Boogie Nights, 4) his performance in Out of Sight still scares the bejesus out of me, 5) his performance in Hotel Rwanda still makes my heart hurt and 6) he's putting his money where his mouth is and is actively raising awareness about the devastating situation in Darfur, traveling to Sudan with members of Congress and co-authoring "Not on Our Watch: The Mission to End Genocide in Darfur and Beyond".  This is quiet humanitarianism at its best, a true gentleman, classy, talented, worthy of every accolade anyone could ever give him…a Hot Man for the ages, one of the very best men we have.  What more could you ask for?
Haven't seen your favorite Hot Man on HMD?  Send your Request and Dedication to herhotness@hotmandiet.com today!      
One Response
miss gee Says:
March 31st, 2008 at 1:59 pm

Love Cheadle (whose accents rival Streep's, who I'm seeing tomorrow, tra la la). Love Betty's boyfriend, geeky or no.

But if pressed to choose, I'd have to go with the Scott Speedman look-alike. I can't help it. I loved Ben. Ben was awesome. Oh my gosh, Sally. Ben! Also, I can't believe you are down 42 pounds. You are amazing. Ben Covington is amazing. Ben Ben Ben Ben Ben. Ben is great. I love Ben.

love,
felicity
Leave a Comment