Week 34:  down .5 pound (-27.0 pounds total!)
Hello to you all, my lovelies, my beauties, my Hot Man Dieteers!  And how does this glorious day of celebration find ya'll?  Are you letting freedom ring?  I ask this question in equal parts jest and earnestness, the former because it is hard for me to stand on any kind of soapbox when I myself have created a site where men are judged not on the color of their skin but on the content of their Hotness, the latter because I wholly understand that the many freedoms with which I approach my carefree and full-bodied life are a direct result of the exceptional work of the dedicated men and women who fought day in and day out for equality and acceptance. 
And so it is that I take this moment to applaud the memory of Dr. Martin Luther King, Jr., a man who changed the face of history, who gave his life to the cause of freedom, who was passionate, unyielding, eloquent and brave, the sum of which leads me to believe and to proclaim him a Hot Manspiration Extraordinaire!  Would he laugh at such a statement?  Would he enjoy the fact that this black woman from Pennsylvania, educated in Georgia and fully formed into an adult in New York City and Los Angeles, would devote her time and energy to a website that loudly proclaims her independence of spirit and self-worth, constantly discusses her as-yet-untamed love for men and margaritas, and produces material as culturally innocuous as Hot Cops?
I'd like to think he would! 
Hot Manspirations of the Week:  How could I allow myself to be Manspired this week by anything other than three pretty stellar Hot Black Men?  'Twould be a crime!  First up we have the cafe au lait component of my Original Trifecta of Hotness, one of my faves that I haven't trotted out in quite some time, Mr. November himself - Derek Jeter.  Sigh…I miss him!  Hurry up, baseball season.  I need you!!!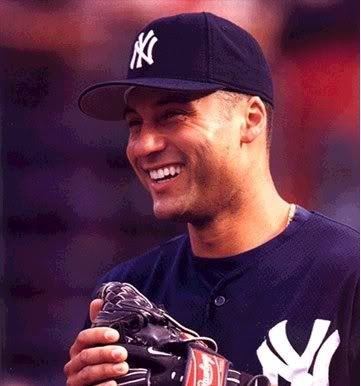 Next we have an egregious pictorial issue that I must rectify post haste - Tyson Beckford.  Poor Tyson Beckford.  In last Monday's hungover haze I hauled him out like so much Man Meat and made his (AWESOME!  RIDICULOUS!  UNREAL!  EFFING AMAZING!) body make up for my lack of coherent verbiage.  Bad Leah!  Hopefully ya'll will enjoy this pic as well…what it lacks in male nudity it makes up in charming sexiness…yumm…..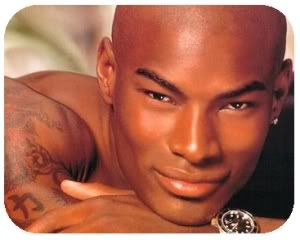 Lastly, we have Barack Obama, HMD's first politically charged Hot Manspiration of the Week and America's first viable Black candidate for President.  You can disagree with this choice all you want, you can disagree with his politics all you want, but you cannot argue that his pivotal and powerful inclusion in this race would make Dr. King proud. 
With these Manspirations and all the others, with the freedom I let ring on a weekly basis, I know that someday I'll be able to say to you all - Hot at last, Hot at last.  Thank God Almighty, I am Hot at last!!
One Response
miss gee Says:
January 21st, 2008 at 2:18 pm

Kudos and an ardent BRAVO to you and your funny, yet wholehearted salute to Dr. King. Aside from Her Hotness herself, there is nothing hotter than a man with a dream who will go the distance to see it realized. Happy MLK Jr Day! xoxo
Leave a Comment