Hello again, my lovely Hot Man Dieteers!  Have ye settled back into a normal, post-holiday state of affairs?  I myself am just getting back into the regular swing of things, as I had a houseguest this past week.  Yes, Her Hotness' mother was in town to help ring in the new year, and while I love my mother, absolutely adore her, I say with no hesitation that it is NOT a good idea to have a houseguest immediately following a trip of your own (particularly when one's "house" is as laughably small as mine).  And so I beg your forgiveness, HMD'ers, for I need another week to get back to some semblance of order before I can return to the diet portion of Hot Man Diet.  What does this mean for you?  Just like 2008's first HMD entry, today is gonna be all about the Hot Men!  Heartfelt shall have to sit on the back burner and stew a smidge more…Hotfelt is taking over today's menu!
(By the way, I know I am kidding myself in thinking that this focus on Hot Men is a hardship for ya'll in any way…I am not stupid…I know that most of you tune in for the pics of the pecs instead of my "oh my god, I lost one pound!" rantings…the only person who reads this site strictly for the Leah info is my mother…she doesn't even look at the pics…and while I DO NOT understand how one can ignore such Hotness, I do know that she loves me, so whatevs…I guess what I'm saying is enjoy the pictures, you uncaring bastards!)
(Just kidding!)
Last week's entry was a compilation of the best HMD pics from 2007.  (If you haven't read it you must do so immediately…it is an epic work of effing brilliance!)  Today's leg of the Manspiration Marathon takes a different approach.  I am not above admitting that sometimes…occasionally…every once in a blue moon I make a mistake.  I am only one woman, after all, one woman committed to providing the Hottest Hotness the world can offer.  But again, I must admit that sometimes I screw the Hotness.  Screw up the Hotness, I mean, either by posting a less than stellar picture or by paying less than appropriate attention to the Manificence at hand.  I have addressed and corrected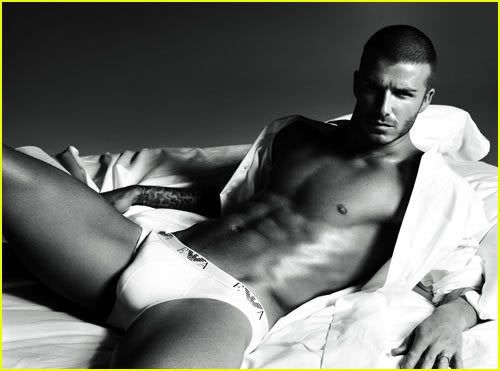 such egregious pictorial issues before…I am here today to do so again.  I've got five Hot Men who deserve a second HMD moment in the sun - sit back, relax and Manjoy!
We begin part two of our Manspiration Marathon with an uber-Hot David Beckham shot.  How he's only appeared on HMD one time is beyond even me…he's filthy Hot, sexy Hot, superbly athletically built Hot (save for all the injuries), tatted up Hot and Brit Hot, all at the same stinking time!!  How is there such a man?!?!  Seriously, how?!?!?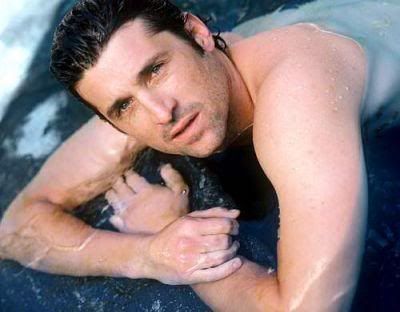 Aahh, McDreamy.  Just like Becks, your HMD shout out came courtesy of the Father's Day tribute to Hot Dads.  You deserve more!  You almost single handedly revitalized the post-Clooney wasteland known as the Hot TV Doc, making surgery sexy for us all over again.  You kept us glued to the TV every Sunday (then Thursday) night, and until Gray's just completely fell apart this year it was our favorite hour of the week.  Because of you.  Just you.  Okay…maybe you and Jeffrey Dean Morgan.  But then he died, so it was just you again.  Sigh…
So, Clive Owen may seem a bit out of place here.  A Hot Manspiration from the
early days, he has taken his rightful place in the pantheon of Hot Brits We Love (there are SO many!).  So why him again?  Well, I wasn't totally in love with the pic I used of him…I don't think it really illustrated the sheer force of him, the ferocity of his sexuality.  (Yes, I do mean ferocity….have you seen Closer?  That is two hours worth of ferocious sexuality courtesy of Clive Owen…poor Jude Law, nobody even noticed he was there…perhaps it was a bit of mercurial Hollywood payback, for just as Jude stole The Talented Mr. Ripley from Matt Damon, so did Clive completely steal Closer from him…)  Anyhoo, I just think this pic is better, more indicative of the brooding darkness of his Hotness.  Look at him…so pensive…so deep…and all you can do is cross your fingers and hope that he's thinking, even a little bit, about you…
Johnny Depp is another member of the Hot Dad tribute team and another HMD photo op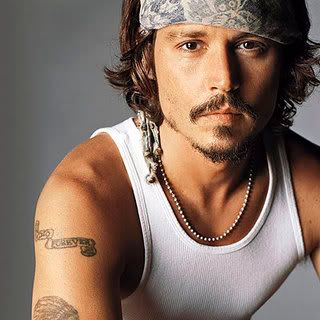 gone horribly wrong.  That pic did him no justice, but in setting about to find one that did pay appropriate homage to Captain Jack I found myself in a bit of a pickle.  I am not the hugest Johnny Depp fan…I think him wonderfully talented, don't get me wrong, and undeniably Hot, but something about the ever-present quirkiness prevents me from truly falling for him.  So I tried to imagine what pic a true Depp-ian would want to see on HMD.  I came up with this one.  I hope ya'll like it…it definitely embraces everything that is present day Johnny Depp - the tats, the weird headgear, the jewelry.  I am much more fond of this pic, but I think I might be Tiger Beat-ing him up too much.  What do you guys think?  Which of the two does it for ya?
We conclude this Manspiration Marathon with the most egregious pictorial issue of all - HMD has featured only one picture of Djimon Hounsou…and he was fully clothed!!  What the hell?!?!  He has the kind of body that makes grown men blush, so perfect in its definition, all smooth and silky chocolate goodness, just outrageous, just unreal, just…so…HOT!  Oh my god!!  You know, I say it all the time, but there are moments when I understand with crystal effing clarity that nothing tastes as good as a Hot Man feels…this is one of them!  What a man, what a man, what a man, what a mighty, mighty Hot Man!!!
2 Responses
miss gee Says:
January 7th, 2008 at 2:19 pm

Oh my.

That's all. Words elude me.

xoxo

Hot Man Diet » Blog Archive » Still Counting Down… Says:
May 19th, 2008 at 7:41 am

[…] Martin Luther King, Jr.  We blessed the underdog and started the year off right with not one but two Manspiration marathons!  Hot at last, Hot at last…thank God Almighty, it was Hot at […]
Leave a Comment