Ahh, October…what Hotness shall ye bring?  You have definitely served some up some nasty tricks - a miserable end to a scrappy Yankee season, crazy vicious fires to the north, east and south of me, and two Octoberfests that were both boy disappointments.  (Octoberfest #2 failed to live up to sexpectations, people.  He's done and gone and good riddance to him!  P.S.  If you've no idea what in the hell I'm talking about, see last week's entry below.)  To top it off, I find myself housebound and sick on this, the night of a million Halloween parties!  How craptacular is that?
But for every trick, is there not a treat?  And how!  In spite of the fever, in spite of all that ails me, I still have the Hotness!  Hotness provided by you, my glorious, wonderful Hot Man Dieteers.  Let's sneak this one in a 'lil early, shall we.  Ladies and gentleman, welcome to Hot Man Diet Requests and Dedications - October!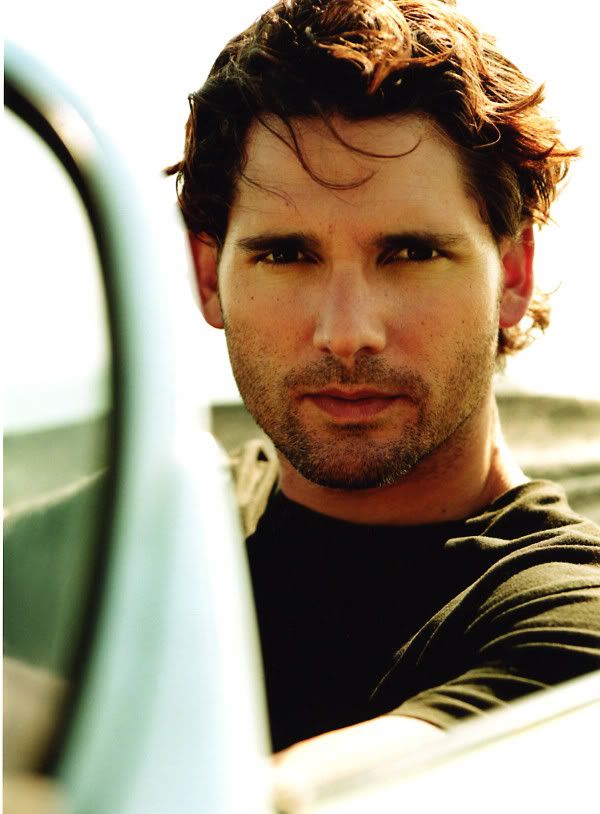 To start us off, we again turn to T. in Echo Park, the brilliant lass who sent Her Hotness an entire list of HMD R & Ds.  Scott Speedman was the first to make an appearance.  This month, we highlight Eric Bana.  HOT!  Hot.  Hot.  Hot.  Great actor.  Hot!  Dark, curly hair.  Hot!  Crooked smile.  Hot!  Australian accent.  Super Hot!  And that physique…my god, it is so UNREAL that "Hot" does not do it justice.  To be fair, we've had many well-built creatures here on Hot Man Diet.  We love a muscled man, we adore a cut bod.  We revel in the Matt McConaugheys, the Gerard Butlers, the Paul Walkers, the Boris Kodjoes, because we understand how EXCEPTIONAL they are.  Eric Bana is ***bold statement alert!*** quite possibly the most exceptional of the bunch.  I'm totally cereal!  His upper body is perfection, simple perfection.  His height - 6′2″ - is ideal.  The rest is yummy goodness.  I would only consider seeing Troy
because of this pic, and this is a movie that also stars Brad Pitt and Orlando Bloom!  That Munich, an excellent movie on its own right, stars both Bana and Original Trifecta of Hotness member Daniel Craig means that it shall be one of those films I watch again and again, in spite of the difficult and tragic subject matter.  (If you've not seen it, see it SOON!  It really is a tremendous film, one of Spielberg's best, in my humble opinion.  Not sure why it didn't receive more attention.)  A very big HMD thank you to T. in Echo Park for Eric Bana, her Hot Manspiration of the Month.
Our next request comes from M. in Ohio: " Dear Her Hotness -I ABSOLUTELY LOVE reading about your adventures (good
or bad) via your wonderful website.  They truly are inspirational to all!  I am attaching a photo of an amazing specimen of the male form.  I know that this man is gay, but he will make me drop my cookies anyway!  Keep the Manspirations coming!   Love ya!"  The love runs both ways, dearest, both ways.  And indeed, Reichen Lehmkuhl is Manificent.  The former Lance Bass boy toy and Amazing Race winner is also a graduate of the US Air Force Academy and an outspoken advocate for gay rights.  He is also Hot.  Look at him all preppy and smart and Hot.  Look at him all chiseled and smoldering and Hot.  He might play for the other team, but I still want to be his cheerleader!  Give me an H!  Give me an O!  Give me a T!  Give me a cold shower!!!  Give me Reichen!
Our last spot o' Hotness goes to K. in Culver City, who is currently at the Halloween party I was supposed to be attending, probably flirting with Hot Costumed Dudes galore.  I am so jealous - I HATE being sick on the weekends!!!  But alas, here I am.  Good thing she sent me this HMD R & D to ease my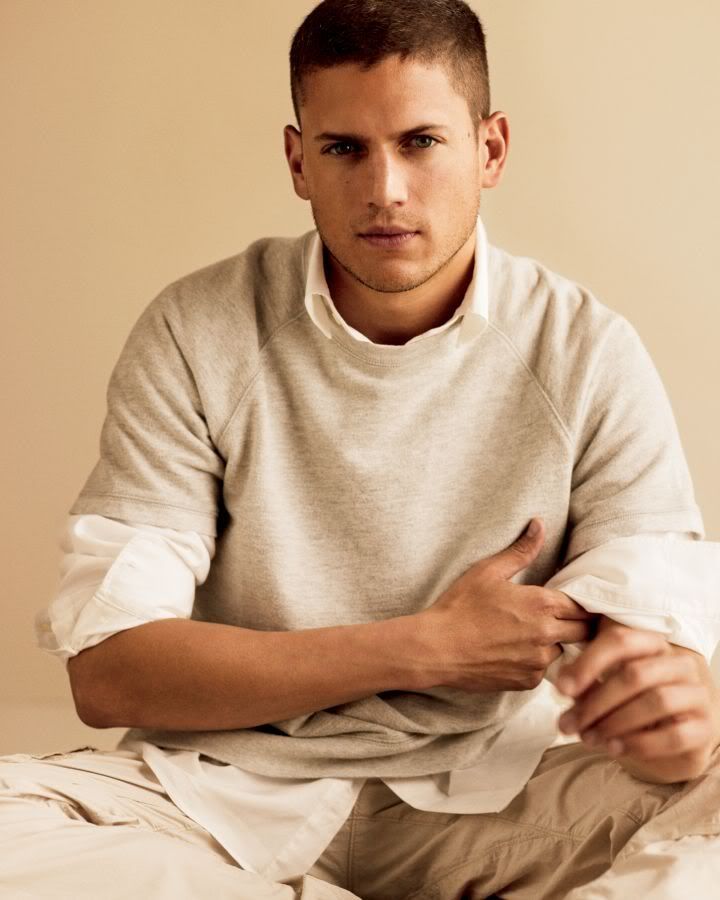 suffering - Wentworth Miller.  Hubba.  Hubba.  Hubba.  Drool.  This star of Prison Break is also a walking Benetton ad - according to imdb.com his father is of African, Jamaican, English, German Jewish and Cherokee descent and his mother is of Russian, French, Dutch, Syrian and Lebanese descent.  People - if this is what happens when so many worlds collide, we need to get to colliding!!  Find someone from another race and procreate!  I shall lead the way.  Give me Paul Walker and a half hour and by god, I'll do my part to Hotten the species!  If Wentworth Miller is what miscegenation brings, then bring it on!  Holy smokes, he's beautiful.  Simply beautiful.  The lips are perfect.  The eyes are piercing and gorgeous.  The body is wonderful.  The intensity is sexy instead of off-putting, the seriousness desirable instead of stern.  The package in its entirety - Manjoyment at its best.  To K. in the CC, this Hottie's for you!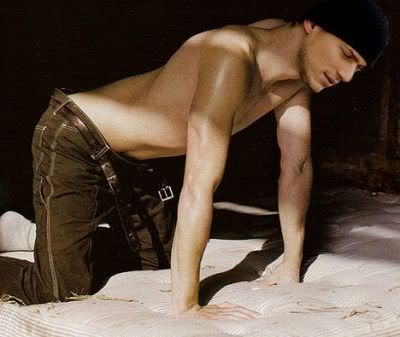 And so ends another Hot Man Diet Requests and Dedications.  Thanks again for your suggestions and support, but keep 'em coming!  Nominate your favorite Hot Manspiration by emailing herhotness@hotmandiet.com.  Give me something to be thankful for come Thanksgiving!
One Response
miss gee Says:
October 29th, 2007 at 9:27 am

nice pecs - i mean pics. glad you had such hotness to examine whilst tucked away to recoup. poor invalid. you should have called dr. ross to administer some whoa neg and 400 ccs of olive juice.

xoxo
Leave a Comment