or A Tale of Two Octoberfests
Week 21:  down 5 pounds (-23.5 pounds total!)  Holy crap, holy crap, holy crap!!
Good morning, Hot Man Dieteers!  I'm so proud of myself for actually having this week's post done at its proper time.  I am also well-rested and not hungover in the least, surprise, surprise!  My Sunday afternoon drinking buddy was mercifully out of town yesterday, so the liver and I took a much deserved respite.  Especially since Saturday night was so crazy…
Octoberfest #1 - Huntington Beach
You know how sometimes you meet someone and you're not really attracted to them initially, but as the night goes on the flirtation heats up and the next thing you know you're making out with said dude in the corner of the bar?  And in spite of the nooky, you're still not really attracted to the guy, but he's cool and interesting, mostly due to the fact that he is from East Germany and has crazy tattoos and a bit of a dark past that he tiptoes around in conversation, and when you mention that you're planning on going to Munich for Oktoberfest 2008 he tells you to check out Huntington Beach for a sneak preview of good times to come, he says he goes every year, that it is much better than the other local celebration in Torrance because Huntington Beach actually has German beer on tap, and when it seems like the two of you have agreed to meet up at Octoberfest, when it seems like your random night might yield a second performance, when you get all jazzed at the thought of some Spaten and some smooching, when you make sure that you're…umm…fully prepared for…umm..anything physical that might happen, when you've crossed all your t's and lined your eyes, when you go out and find the perfect shirt to perfectly highlight Talent and Ambition, when you find yourself looking forward to spending a Saturday night in the OC, when your expectations have gone full tilt, it only stings that much more when this man, the unworthy man behind all this fuss, DOES NOT SHOW UP!  And in spite of it all, in spite of the lack of any real attraction, you feel horribly, terribly foolish!  All expectations come crumbling to the ground and you find yourself willingly behind the Orange Curtain on a Saturday night surrounded by a teeming mess of drunk idiots and four lovely friends who are trying to help you make the best of a bad situation but who have their work cut out for them because you are PISSED!  And so when you find out that there might be a different way to end the evening, a way to leave the OC behind without admitting defeat, with a new set of great expectations swirling around your head, you grab your car keys and GO! 
Octoberfest #2 - Torrance
You know how sometimes you meet someone that you're really attracted to but you have no idea why and your friends don't understand the attraction either and loudly make their feelings known but it doesn't dissuade you, you're still totally into this dude in spite of the very obvious lifestyle differences (and you know it doesn't hurt that he looks like equal parts Scott Wolf and Tino Martinez, both of whom have totally done it for ya in days past) and the next thing you know you're making out with said dude in the corner of the bar?  And your head keeps telling you that there is NO WAY this is gonna work, no way this is gonna go anywhere, and maybe that is okay with you and maybe it isn't but you still want him bad, in spite of the ex-wife and kids (yes, oh dear god I can't believe I am TELLING ya'll this!), in spite of the big ass gas guzzler of a truck and the awful, awful Raiders football jersey, in spite of the disapproving friends…in spite of it all you still jump in your car and leave one Octoberfest only to drive thirty minutes to another one, to pay another admission fee and stand in line for another expensive beer, because you very much want to see him, this man that you are wildly attracted to in spite of it all, because his attentions can heal your wounded pride, because he seems nice and sweet and kind and there's a chance he actually IS all three of those things, because if the choice is between going home alone or standing in a beer tent in the T-Ranch feeling up the muscled arms that lie beneath the awful, awful football jersey, well then clearly the arms have it, and because deep down inside the rabid Yankee fan in you completely applauds his penchant for awful, awful football jerseys. 
And then you realize a few things: 1) you're a vicious snob when it comes to football jerseys, 2) this practice of playing one man off another, of allowing one man to hurt you and allowing another to heal you, is so antithetical to everything you stand for it MUST STOP ASAP, and 3) beer is excessively caloric.
And then you pray your mother doesn't read this entry.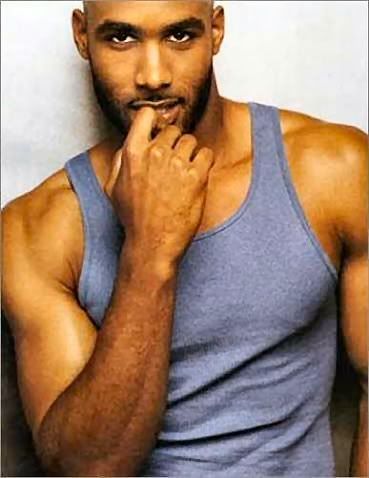 Hot Manspiration of the Week:  Yet again, this week's Hot Manspiration comes from one of my fave HMD'ers, T. in Seattle.  I've said it before and I'll say it again - I will ALWAYS be indebted to T. for introducing me to the wonder that is Gerard Butler.  And now it seems that I shall be in even more debt, as this week's Hot Manspiration is another T. discovery.  Hot Man Dieteers, meet Boris Kodjoe.  He's a model-turned-actor with a budding resume and growing family (boo!).  He's also UNREAL, he's so stinking, smoking, effing HOT!!  Words fail me.  I cannot even…words fail me!!  What perfect timing, the appearance of this man this week, especially considering that Mr. Kodjoe is half German.  Sometimes I have a lot to say about my Hot Manspirations, but not today.  No…today I can only look.  And blush.  And smile.  And imagine.  And desire.  And desire.  And desire.  And desire…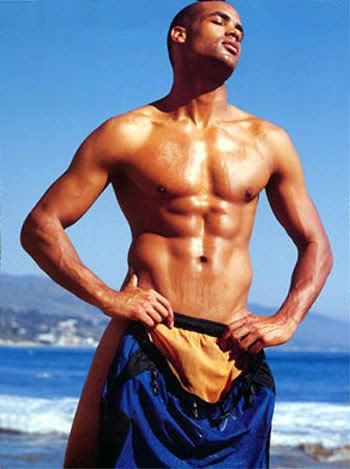 HMD Foe of the Week:  Damn you, George Steinbrenner!  How could you?!  We don't need to go into deets, you know what you did and I hope you regret it every minute of every day of the rest of your life!  Damn you and your miserly ways!  You've broken up the third most important family I've ever known (mine own being the first, with the Huxtables running a close second, natch).  You're just not happy unless the Bronx is burning, are ya George?  I hate you!  I am verklempt, I am undone, I am so, so, so, so sad.  My heart is cleft in twain….summer will never be the same …
***** Coming This Week - Hot Man Diet Requests and Dedications - October *****
9 Responses
Leave a Comment