It is September - I KNOW!  Please do forgive me.  All plans to write this long-awaited entry were pushed aside as Her Hotness made an emergency trip to Malibu.  (My life is SO hard!)  But I'm back, and there is NO WAY I'd let the hottest month of the year go by without giving some shout-outs to my favorite Hot Man Dieteers.  Let us all bid a fond adieu to summer with some serious Hotness…I give you this month's Hot Man Diet Requests and Dedications!
To start us off, we have a Hot Man who has been requested by not one, but two fair HMD'ers.  And let's face it - Hugh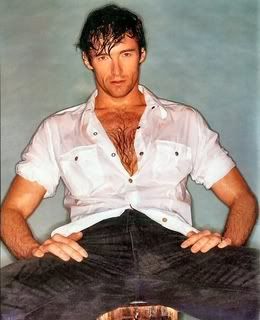 Jackman DESERVES the adulation!  He's here at the behest of A. in Minneapolis and E. in Pasadena, both of whom have been waiting very patiently for Hugh's HMD debut.  (He will be back - he's got an UNREAL body, is exceptionally talented and delightfully charming, can sing and dance AND has an accent - that's like a freaking blueprint for Hot Manspiration Hall of Fame-dom!  Trust me, he WILL be back!)  In fact, E. and I have joked on several occasions that it should be illegal to even cast Mr. Jackman in a part that doesn't require he remove his top at least once (or twice).  Funny how in spite of that I have chosen a clothed pic for your Manjoyment…I do apologize.  I couldn't help myself.  I have a weak spot for wet men. 
Did I just say that out loud?  Bad Leah, very bad!
Anyhoo, here's Hugh in all his barechested glory.  And how sweet, he's with his kid.  Do I spy the first participant in next year's Hot Man Diet Presents…A Very Special Tribute to Hot Dads?      
Next up, we have this request from T. in Silverlake, who was brilliant enough to send Her Hotness an entire list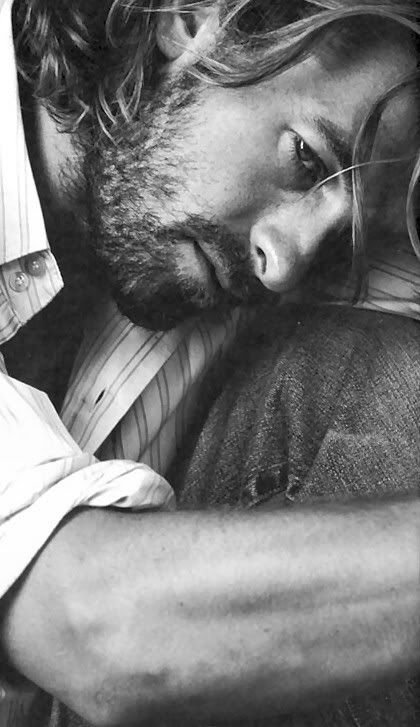 of Manjoyment.  Smart girl, as she will probably appear on a few month's worth of HMD R & D.  Her list was quite Hot, but the most surprising choice of all was Scott Speedman.  His looks are definitely worthy of inclusion, that's not what was surprising.  I just couldn't believe that I had forgotton about Ben, my weekly Hot Manspiration of the late 90's, early 00's!  Honestly, wasn't Felicity just the best?!  I, for one, never missed an episode.  As it was pre-TiVo, I even had several blank tapes reserved specifically for Felicity duty, in case I wasn't home.  Ahh, the many nights that my best friend Ann and I waged a ferocious Ben vs. Noel debate.  (I must admit, she was firmly planted on Team Ben.  I wavered.  Noel was a really great guy!)  In any event, the thing that is so Hot about present-day Scott Speedman is that as he matures, he reminds me more and more of Simon Baker…and that's just about one of the highest compliments I can give!  He even pulled a Something New Simon Baker move, as he treated himself to some Hot interracial action with Michael Michele in Dark Blue ( a very good, highly underrated film, in my opinion).  Scott, Ben, Scott…I suspect that we have only hit the tip of your Hotberg.  Hugh is a lock for Hot Manspirationhood…are we to be seeing ye here again?…so far all signs point to Yes…    
And last, but certainly not least, we have this tasty bit 'o honey for M. in NYC.  She writes, " I ADORE your Hot Man Diet website…." (I had to slip that compliment in, sorry everyone!) "Please, please, please add my soon to be husband & constant fantasy - Daniel Sunjata, who plays Franco on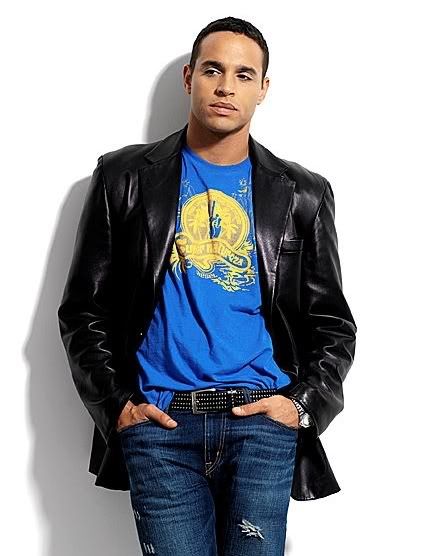 Rescue Me…I would stop eating for him any day of the week."  High praise, indeed!  That is EXACTLY what Hot Manspiration is all about.  I love it.  I can also…umm…confirm that this gent is indeed worth admiring, for I've seen ALL of him!  That's right, I've seen Daniel Sunjata full on, bare assed naked!  Unfortunately it was not up close and personal, but instead from Orchestra Row R, Seat something or other, House Right.  He was in the Broadway production of Take Me Out playing the Derek Jeter-esque lead character.  (I say "-esque" because Daniel's character was gay and DEREK JETER IS NOT GAY!)  There were MANY nude scenes in this show, including a shower scene that seemed to last forever (and yet, not long enough, if you know what I mean!).  I was there to cheer on my good friend Gene Gabriel (he's the one farthest right in that linked shot above), who was also in the show.  (And also completely naked….and yes, it was weird to see my friend onstage completely naked…but a hearty congrats to his wife!)  So…to my good friend M. I say - admire on, my dear!  He is VERY MUCH worth it, from the rooty to the tooty!
Thank you all for the new Majoyment!  Who can think of food when there is such Hotness to behold?!
Enjoy your Labor Day.  I will be soaking up every inch of summer's fading light, so this week's Weekly Speak will be postponed 'till Tuesday.  See ya'll then!!    
Have I missed your fave Hot Man?  Let me know what Manificence I may bring you!  Email your Request and Dedication to herhotness@hotmandiet.com.  
6 Responses
Leave a Comment