I told you I'd be here every month!
First off, let me say again - ya'll have GREAT taste in men!!  I am drooling like a mo fo up in here!!  I'm cereal.  There is some serious Hotness out there that I have yet to meet, and I look forward to you guys sending them my way.
I received many requests (keep 'em coming!).  However, to reserve some of the Hotness for a later date I have chosen only three peeps to put on display this month.  If your request wasn't chosen don't worry!  Either I am saving it for a future HMD R & D or for something else equally exciting.  I can assure you that EVERY request has been noted and will be delivered.  I promise.
Shall we begin?
Our first request comes from A. in Los Angeles (are you in LA, Aelmy?) who, ya'll may recall, was the first ever Hot Man Dieter of the Week.  She writes, "Her Hotness, I know you have already posted my number one Manspiration, Matty Mc, but I am also a HUGE fan of Josh Duhamel. And my current plan is to continue on this Hot Man Diet so that I can knock Fergie out of the running and show Josh that he really wants something that tastes Aelmylicious." 
While getting rid of Fergie (hopefully) is a lovely bonus to this HMD R & D, there's no denying that Josh Duhamel is indeed one Hot Man.  He usually walks too much on the pretty side of the road for my taste, hence the rather rough and tumble pic of him I've chosen.  For a more classic Duhamel look, click here.  For a very naked (I'm cereal, do NOT open this at work!) pic of Mr. Duhamel click here.
Our next Hot Manspiration comes courtesy of S. in Long Beach.  "I would like to submit a little forgotten Manspiration, Mr. Benjamin Bratt.  He represents the best of both worlds with his Germanic and Peruvian roots.  A Hot bi-cultural Man, the future of our country!  Wooo hooo, can't wait to see this hottie on your website.  Many hugs and thanks a bunch!"  You are welcome! 
Julia - what were you thinking?!  How could you leave this Hottie in exchange for dude, what the hell is his name, Motor?  Mulder?  Molder?  Moldier is what it should be, because is it just me or does homeboy look pissy all the time?  Benjamin Bratt, you're OUR kind of Man - the Hot kind! 
And last, but DEFINITELY not least, we have Gerard Butler.  Yes, I know what you're thinking - who the hell is Gerard Butler?  Well, this request comes to us from Catia on behalf of her friend T. in Seattle.  I've met T. once, a lovely gent who told me I had big hair (no big deal, when it is in its full glory my hair can indeed take over rooms).  Had I known that T. would be the person to introduce me to Gerard Butler, I would have kissed him smack dab on the lips.  Seeing as how that is precisely what he doesn't want, I'm sure he's happy with the way things turned out.  I certainly am!  OHMIGOD YA'LL I AM IN LOVE!!!  That Man is HOTTTTTT!  He was in the movie 300, and if I had known that under this there was this, I totally would have seen it a gajillion times, cause that Man is HOTTTTTTT!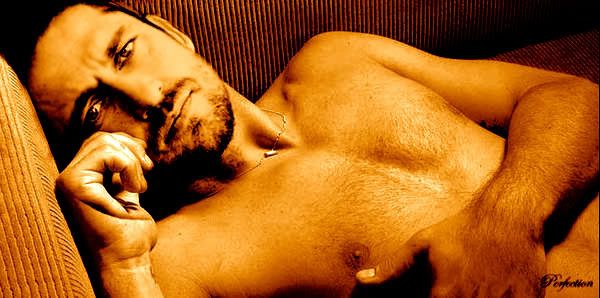 I am verklempt.  I am o'erwhelmed.  I feel as if I have just discovered a new world.  The sun has broken open, and in its cascading rays of light I see heaven anew, for I have found new Hotness.  You know, you think you know all the Hotness there is to know and then…then…some glorious, wonderful soul adds another hidden treasure to the list…and we can offer nothing back but humble gratitude…
Gerard Butler is Scottish (Yay accent!), is built like a shit brickhouse, will soon be a huge movie star, and reminds me of Daniel Craig in all the right ways.  He even took over Daniel's sexy-talented-UK-actor-who-will-be-forced-to-have-"chemistry"-with-a-wooden-Angelina-Jolie part in the Tomb Raider sequel.  There is something about this man that absolutely moves me.  Gerard Butler will be on HMD again.  Me likey!  Me likey a LOT!
Well, that does it for this month's Hot Man Diet Requests and Dedications.  I'll see you again this Monday, when we all find out if I've been able to get myself back on track.  (It is Friday night and I'm not drunk…that's a good sign.)
Don't let your Hot Manspiration pass you by!  Email your HMD Request and Dedication to herhotness@hotmandiet.com.
7 Responses
Leave a Comment