Week 7: down 0 pounds (- 13 total!)  Last week I issued myself a challenge to eat more vegetables…let's just say I'll be doing the same again this week.  It was hard, ya'll!
Hello HMD'ers!  I hope you all enjoyed what was my most prolific week yet.  I was a lean, mean writing machine, eh?  'Tis what happens when Hot Manspirations abound, 'tis what happens. 
Well, HMD'ers, I am thrilled to announce the elimination of HMD Foe #1 from my life - I no longer work in an office!  I have finally freed myself from the trappings of a 9 to 5 existence in a stifling, flourescently lit, sit on your ass and watch it spread, oh and of course today is somebody's birthday so here are ten cakes for you to eat and never work off because when you leave here all you'll want to do is sit some more and drink ten cocktails because your soul is SLOWLY DYING office environment. 
Can you tell that I feel very strongly about this?
Let me be totally cereal here - I started off this year at rock bottom.  For reals.  I rang in the new year standing in the rain in NYC, sopping wet and hysterically sobbing because I DID NOT want to come back to LA.  I knew at that point something had to give.  I had to find my way back to my own personal happiness, and the first thing that HAD to go was my job.  I turned in my resignation right after MLK Day (let freedom ring!) and went back to a temp job I had a few years ago.  I was surprised to find how quickly that job also got under my skin, particularly since the people are lovely, honestly, some of the best peeps I've ever met.  But even that didn't work for me, as these lovely peeps were constantly flooding the office with food for occasions both real (birthdays, a gajillion freaking birthdays) and made-up ("Snackfest 2007″ was an odious turn of events).  Again, I knew the job had to go. 
I now work as a personal assistant for a friend that owns a few businesses in Long Beach.  I spend my days in shorts, tees and flip-flops, running errands all over town.  I make juuussst enough money to live, yet I am as happy as a clam.  I feel as if a weight has been lifted from my shoulders, both literally and figuratively.  I am now free to pursue the things I needs must pursue.  I have eliminated a foe and in doing so I have reclaimed my happiness, reclaimed a bit of myself that had been lost.  And that feels, pardon my language, fucking great!
I guess now it is time to tackle HMD Foe #2 - hormones.  Umm…color me stumped.
Hot Manspirations of the Week:  To paraphrase Godspell - I've had SO many men this week, in very many ways…there's just one more.  George Clooney!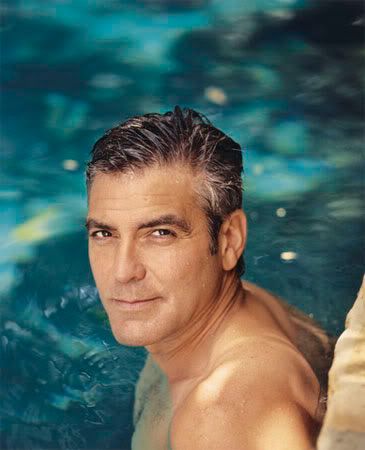 In addition to all of the baseball Hotness, this week has featured extraordinarily helpful cameos by both Daniel Craig and Derek Jeter. How, HOW then could I ignore the third member of my Original Trifecta of Hotness?!  Not when he is so debonair, so disarmingly charming, so very…HOT!  Here's to George Clooney, Daniel Craig and the 2007 All-Star Hotness Team - my Hot Manspirations of the Week!     
HMD Foe of the Week:  Me!!  I know, I know, you're sitting there thinking "What the eff?"  But I must stand up and face the facts - I am someone else's Diet Saboteur!  You see, whilst I have made many changes in my life since starting HMD, I have yet to really curb my enthusiasm for the hooch.  I am pleased as punch (spiked, of course!) that this has not completely thwarted my weight loss efforts…yet.  Alas, the same cannot be said for a good friend of mine.  And seeing as how this friend is some serious good times, good times, I regularly call on her for Friday night Happy Hour-ing, oftentimes using some old-fashioned peer pressure to get her to join me.  Bad Leah!  This is very, very bad form from someone committed to helping everyone achieve the Hotness within…I am sorely ashamed and will flog myself post-haste…
7 Responses
Leave a Comment