Redefining the notion of fantasy baseball, Hot Man Diet is thrilled to present the first annual Hot Man Diet Hotness All-Star Team!  As the first half of the baseball season winds to a close, I needs must take a moment to salute my babies, my heroes, my everything - my Hot Boys of summer.  And while there are many lovelies to choose from, I have painstakingly assembled what I feel is the Ultimate Starting Lineup…of Hotness!! 
Many of the gentleman listed here today are actual members of the 2007 MLB All-Star Team.  All of them are, beyond being ridonkulously Hot, exceptionally talented athletes.  Some are married, some single.  Both the American and National Leagues are represented, and I have tried, as much as possible, to pick players from different teams all over the country.  You will see some teams represented more than once (hey, what can I say…I'm a New Yorker at heart!) and you will see some teams not represented at all.  Please do not hold that against me - the Hotness dictates where I must go and I cannot help but follow it!  I am sure that many of you will disagree with my choices.  If so, tell me.  Write in and let me know who I missed.  Even I can occasionally overlook Hotness. 
For every player listed I have included a link to their actual profile on their team's site, in case you get off on stats as much as I do and want to find out more.  (PLEASE keep in mind that the pictures on the team site ARE NOT good in that they DO NOT accurately depict ANYONE'S true Hotness!  In other words, if you're only looking for Hotness, look elsewhere.)  I have also deliberately chosen pics that show these Hot Men in the thick of the action.  This does rule out many close-ups of the Hotness, so I have tried to find other pics to help further illustrate their inclusion on this list.  Sit back, relax and enjoy!
Announcing the 2007 Hotness All-Star Team Starting Lineup…
First Base:  Derrek Lee, Chicago Cubs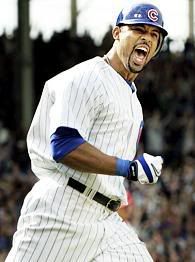 There's something about Derrek Lee.  Sure, he's tall, he's got a helluva body, he's a leader on a big market team of talented players trying desperately to shake their "loveable loser" stigma.  But there's something else, something brewing just under the surface, a kind of electric sexuality that flows out of that man and speaks to me.  In short, he moves me.  A lot.  I suspect that his will be the most criticized choice, as many of you are probably slack-jawed in amazement at Albert Pujols' omission.  What can I say?  The heart wants what the heart wants and this heart wants that tall drink of hot chocolate to take her to first base and beyond!  
Although ALL of this would be null and void were the super-foxy Tino Martinez not retired… 
Second Base:  Tadahito Iguchi, Chicago White Sox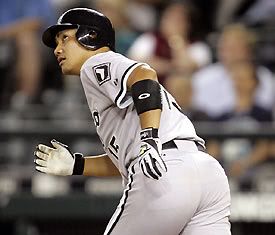 Of all of the players to come to the U.S. from Japan, Tad Iguchi is by far the Hottest.  I first noticed him during the 2005 World Series, when the White Sox took down the Astros to win it all for the first time since 1917.  My interest was piqued the first time I spied him - serious, intense, smoldering, Hot!  And if you think this view from behind is nice, believe me when I say it is just as sexy from the front. 
Shortstop:  Derek Jeter, New York Yankees 
Um, who did you THINK I was gonna pick - Carlos Guillen?!
There are no words.  There are no words left for this Man, one-third of my Original Trifecta of Hotness, 2 time Hot Manspiration of the Week, 8 time MLB All-Star, 2000 All-Star Game MVP.  There are simply no words left.  Okay, there are three words left - Oh.  My.  God.  And here, I found four more words - Bring.  Him.  To.  Me.  Oh wait, here's one last sentence I found behind the couch - Oh my God, bring him to me now, this instant, right now, I must have him now, please God, now now now now now now now now Right Now. please, please, I'm totally serious, I'm NOT KIDDING, PLEASE!!!!

Third Base:  David Wright, New York Mets
Yes indeedy, he is definitely a Mr. Wright.  This affable young 'un has proven himself to be One To Watch, as he would have been last year's All-Star MVP had the National League won.  And that was his first appearance at the Midsummer Classic!  Exceptionally talented, crazy nice and super Hot, David Wright's inclusion on this list should have been a done deal.  And it would have been, were it not for this guy.  Aaah, A-Rod.  Why are you so hard to like?  You're leading the majors in home runs, you're tops in all kinds of other stats, you're on pace to break a gajillion records and you've figured out how to deliver game winning hits in the ninth inning.  And you are, undoubtedly, smoking Hot.  So why can't I love you?  Why?! 
Catcher:  Joe Mauer, Minnesota Twins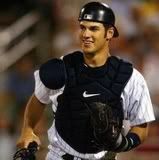 You know how the saying goes - "We want a catcher, not a bellly scratcher!"  Well, if the catcher in question looks anything like Mr. Mauer to my right, can I request the catch AND the scratch?  Yum!  I'll get over the grudge I have with Joe and teammate Justin Morneau for robbing Derek Jeter of the two titles he deserved to win last year, American League batting champ and American League Most Valuable Player, respectively.  But only because you're a Hot Man, Joe Mauer.  You are definitely one Hot Man!
Outfielders:  Grady Sizemore, Cleveland Indians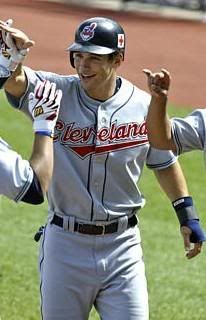 Does Sizemore matter?  Oh hell yes it does, especially when it comes with those dimples, that curly hair, that body, that talent, that smile!  Grady has been featured before on Hot Man Diet, and rightly so.  He takes my breath away!  And I'm not the only one.  There's a group called The Grady's Ladies Sisterhood, and I suppose I'd be the first one to sign up, were I not a Yankee gal through and through (I bleed pinstripes).  But I understand where ya'll are coming from, ladies.  I completely and totally understand!
 Carlos Beltran, New York Mets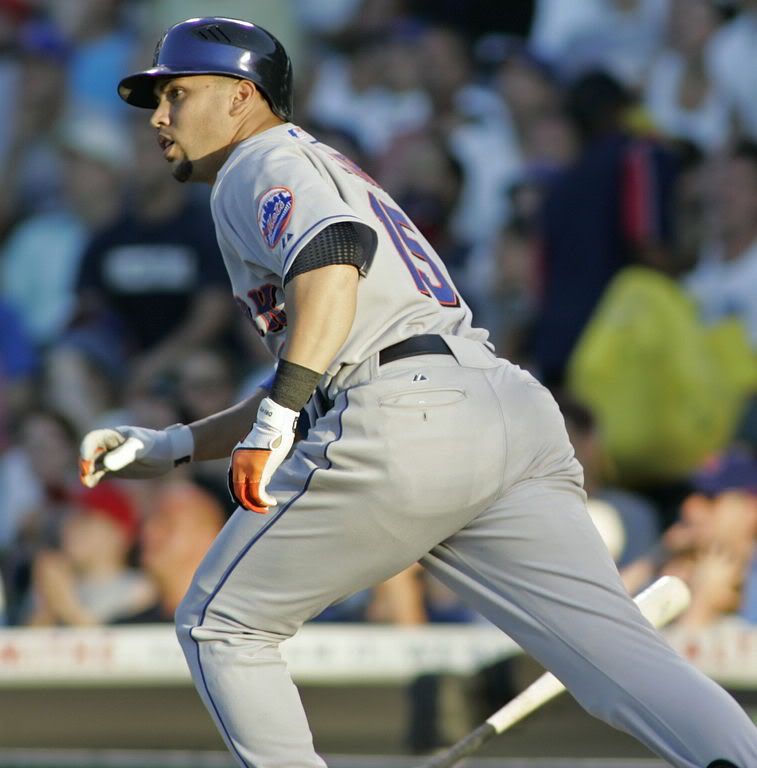 Yes, that is Met #2 on the list, because this is another one that could not be denied.  Apart from being one of the most promising young outfielders in baseball today, Mr. Beltran is also, according to People magazine, one of the 50 Most Beautiful People in the World.  I concur!  I concur!  I mean, the front is glorious.  The back is glorious (as this pic demonstrates).  The body is unreal…hold on guys…I need a moment alone..to collect my thoughts…
Andre Ethier, Los Angeles Dodgers
Funny story - when I announced my intention to release a 2007 Hotness All-Star Team, a good friend of mine immediately asked if any of his beloved Dodgers would be on my list.  Now, I like the Dodgers and all, but I had to admit to him that none of them moved me in that special, HMD kind of way.  With wounded pride, my friend offered suggestion after suggestion.  No, I said, no Nomar.  No Derek Lowe.  No Juan Pierre.  Too bad you got rid of Shawn Green, I told him, 'cause he might have made the cut.  Undeterred, my friend went on the search for a Hot Dodger.  I let him be, thinking that he would soon run out of players to offer and settle for a pic of Mr. Green in a Mets cap.  But then he introduced me to a Dodger newbie, a young 'un that hadn't yet been sullied by my salacious eyes.  An uncovered beauty, an undiscovered treasure - Andre Ethier.  Holy moly, what Hotness there was to be found!  There are only a few decent pics of him floating around, but I've seen enough to know that I need to get my ass to a Dodger game, post haste!  Who's with me?!
Pitchers: ( As you will soon see, I am only listing a four man starting rotation and one closer.  There are no relievers included because let's face it - we could be here all day.  And I'd like to have time to actually WATCH the All-Star game, so ya'll will have to settle for the five hotties below.  They SHOULD be more than enough!)
Mark Mulder, St. Louis Cardinals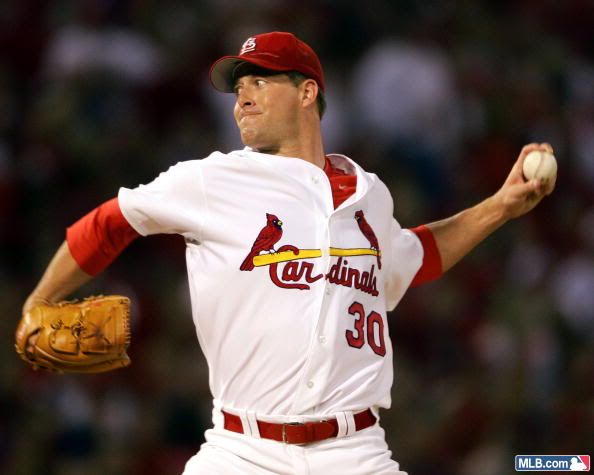 I have been a fan of Mark Mulder for a looong time, back when he and Barry Zito and Tim Hudson made the Oakland A's pitching staff the stuff that legends are made of.  I also remember watching him outpitch Roger Clemens when he was the starting pitcher for the American League in the 2004 All-Star Game.  But mostly I just remember him being uber-Hot!  He's the kind of guy who looks like he drinks milk, and we ALL know how I feel about men who drink milk!
Miguel Batista, Seattle Mariners
By all rights I should hate Miguel Batista.  He was part of That Team, the team I hate mentioning.  No, I'm not talking about the Red Sox, I'm talking about the 2001 Arizona Diamondbacks.  You know, That Team That Ruined My Life Back Then.  Okay, so there were MUCH larger world issues at hand to worry about, but man, did I ever want to see my Yanks win so much as I did that year?  Anyhoo, the thing is that in spite of it all, I still noticed the Hotness that is Miguel Batista.  Gorgeous eyes, the bone structure of a runway model and the most chiseled, muscular, dare I say beautiful pair of legs I have EVER seen on a man…there's no way I could hate him!  The Hotness is too much, I say.  The Hotness is too much. 
Huston Street, Oakland Athletics   
This hard throwing closer is just another example of Oakland A's pitching at its finest (see Mark Mulder).  Named 2005's AL Rookie of the Year (over my Robinson Cano!), Huston is just beginning what is surely to be an incredibly illustrious career.  He's already got the ladies on his side, so between them and his 100 mph fastball, I'd say he's gonna be just fine…
Johan Santana, Minnesota Twins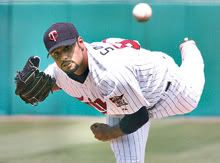 This lefty packs some heat, both literally and figuratively.  A two-time CY Young Award winner (the only Twin to ever achieve that honor), he is also known for being incredibly kind and extremely beloved back home in Venezuela.  I also happen to think he's smoking Hot, although I prefer the view of him on the bench when the Twins play my Yanks…he's one of the few AL starting pitchers I dread my boys having to face. 
Andy Pettitte, New York Yankees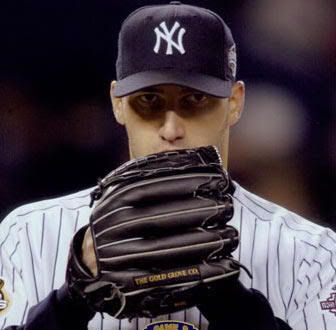 When you say the name Andy Pettitte to a Yankee fan, this is the image that immediately comes to mind.  The Pettitte Stare.  Eyes darting out from under shadows, head tilted, body tense in expecation, hands preparing for the assault, glove removing all doubt.  So little is shown, and yet the Hotness is undimmed.  How happy was I when Andy came home?  How I missed him!  How we needed him!  How I wanted him back, if but to see this visage again, this glorious image, this unheralded, full-bodied, unyielding Hotness!  Welcome back, Andy!
I hope ya'll enjoyed my 2007 All-Star Team of Hotness.  Make sure you catch the Hotties in action tonight.  For more information on times, teams and trivia visit www.mlb.com.  For my part, I shall prepare myself for all of the Hotness with a good night's sleep.  Take me out to the ball game, indeed! 
4 Responses
Leave a Comment