Week 6: down .5 pounds (- 13 total!)
Hello out there in HMD land!  And how does this week find us all?  Full of American spirit?  Independent and free?  Or still completely confused about what the hell day it is?  (I'm the latter.) 
I am pleased to say that I have come out of last week's temporary funk unharmed and unfazed.  For those of you truly interested, it was indeed HMD Foe #2 that had a sister down.  As the week went on I regained some of the stature and confidence befitting Her Hotness, and right now I am feeling mighty good.  I must be looking mighty good, too, because I had a most interesting encounter on Saturday.  I go walking anywhere from three to five times a week for exercise (I don't do gyms!) through my neighborhood, a seriously intense 3 mile trek that keeps me honest, if you know what I mean.  I am usually accompanied by a very good friend, but on this particular day it was just me and my iPod.  Anyhoo, as I am on the first leg of my journey I spied a Hot Man coming out of a nearby apartment building.  We made very brief eye contact, as I am lately prone to staring down all Hot Men (in the name of research, of course!).  I kept walking.  Next thing I know, a car pulls up beside me, the windows roll down, and Hot Man is asking me out!  I was stunned!  I mean, it was late in the afternoon, I hadn't showered, my hair was jacked up, I was wearing a beat up t-shirt and very old, very baggy pants that I later discovered had a huge hole in the crotch.  I did not look anywhere NEAR my best, but there he was, seeing something that he liked.  And the confidence that had been brewing all week, stirring in me and coming alive again after a short departure, it burst forth like a tidal wave.  I was HOT!  Hole in the crotch and all.  Hot!
Oh…and I DID give him my number and I WILL go on a date with him.  Don't worry…he totally didn't look like a murderer!
Please don't get me wrong - in NO WAY do I think that I am only Hot if and when someone else says I am.  No way!  I'm just saying that the attention was nice, especially considering that I began the week feeling seriously off my game.  That's all. 
And who doesn't want a Hot Man to buy 'em dinner (and maybe give 'em a smooch or two)?!
Hot Manspiration of the Week: Oh Leo.  Leo, Leo, Leo.  Leo,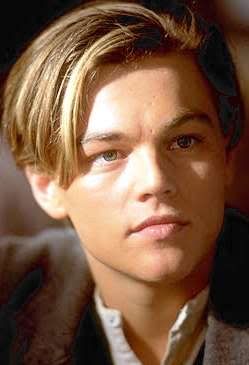 I must admit that in the beginning, I was not your biggest fan.  Back in the days of Jack and Rose, when all of the female world swooned at your feet, I didn't get it.  My best friend got it, oh, she got it hard, LOVED you and thought you were the best thing since sliced bread.  Even my grandmother got in on the act, proudly presenting the Christmas gift she had bought me - a huge, three wick candle that played an instrumental version of My Heart Will Go On when lit.  But I still didn't get it.  You were too pretty.  Too small, too cute, just so very…wee.  I resented you your career, because I was still too pissed about River's death to accept you as his heir apparent.   But then…well…you grew up and grew Hot.  When did that even happen?!  I saw you in Catch Me If You Can and I thought you were okay, but still kind of lanky and young.  I saw you in The Aviator and you lost me a bit, as everyone else in that film looked a good decade older than you.  I didn't buy it.  But…somewhere between that film and The Departed you seriously filled out.  You got a little rough around the edges.  Your chestal area took on a heretofore unseen depth and definition.  I was stunned by your Hotness!  I mean, your acting was great and the movie was great, but your Hotness took my breath away!  And watching Blood Diamond this week, I mean, again there you were looking like…like…like a Man, finally, and a seriously Hot Man at that!  Alls I can say is damn…damn!  I don't know what you did, but it worked.  Leonardo DiCaprio, you're my Hot Manspiration of the Week!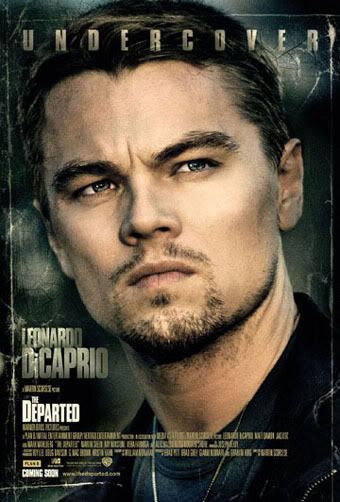 Hot Man Diet Foe of the Week:  Vegetables.  Not in the sense that they are bad for me, just in the sense that I find it extremely difficult to eat as many as I'm supposed to.  I mean, I like veggies, I really do.  But let's face it - they are high maintenance, elusive sons of bitches.  They require cooking, which requires grocery shopping, which requires planning, which requires time - NONE of which I have/do in abundance these days.  But I say this now, before God and all of you dear HMD'ers - this week I WILL eat 3 - 5 servings of vegetables EVERYDAY!  I'm throwing down the gauntlet and issuing the challenge to myself.  Hold me to it, HMD'ers.  Hold me to it!
7 Responses
Leave a Comment