Weekly Hot-O-Meter Reading:  partly sunny with a loss of 1.5 pounds (-21 lbs. total!)
Word. 
As ya'll know, last week I was a woman on the verge of a nervous breakdown.  Today finds me much better off, thanks to some serious pumping of iron at the gym.  My butt-numbing, gut-wrenching, soul-crushing workouts (I'm cereal, I was effing working up in that gym!) are the ONLY reason I posted a loss today.  This week was hard, ya'll.  I had a serious enemy to contend with.  And what was the Hot Man Diet Foe of the Week?  Cheese.
Maybe it was hormonal, maybe emotional, who knows.  Some medical web sites say it might indicate an adrenal or thyroid issue.  In any event, I have wanted cheese every minute of every day for the past week and a half.  I wake up with a taste for cheese.  At night I crave cheese over chocolate.  It's bad, ya'll!  Why can't I ever feel this way about broccoli?!
I've had similar cravings in the past, but was able to stave them off by simply banning cheese from the house.  If I needed some for a meal I bought exactly the amount needed and no more.  Abstinence due to absence.  It (mostly) worked.
But now that I am co-habitating, all bets are off.  We have a fully stocked fridge (just like most normal adults), and all my bad habits are being tested left and right.  Don't believe me?  Ha!  The following is a list of all the cheese we currently have in the house -  pepper jack, havarti with dill, English stilton, goat, feta, gorgonzola, cream, shredded mozzarella, shredded Mexican blend, shredded cheddar, cotija and even those blasted individually wrapped American cheese slices!  Add to that list an $18/pound parmigiano reggiano and a huge block of the most luxuriously sharp English white cheddar I've ever tasted and you've got a veritable CHEESE-TASTROPHE!!!
Chester was right, man.  It ain't easy being cheesy.  But alls we can do is keep on keeping on.  Fight the good fight, hold steady on the course, and wait for these mothertrucking cravings to END! 
They will end…right?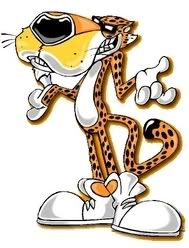 2 Responses
Bones Rodriguez Says:
October 22nd, 2010 at 11:41 am

You can't eat what's not in the fridge…

I know, I know…such an OBVIOUS thought…yet one might argue that the deeper problem isn't what's in the fridge, it's what goes from the fridge into your mouth. I'm thinking it is time to tackle the deeper problems.

PJ Says:
October 25th, 2010 at 7:50 pm

Congrats on the 1.5 loss. Keep it up her mighty hotness! =)
Leave a Comment