HMD'ers, can we talk?
Hurry, come close!  There isn't much time… 
Her Hotness has her work cut out for her.  Remember, this is MY week to try and get this sinking ship back on a Hot path.  Dearies, we spent Saturday night at Oktoberfest.  OKTOBERFEST!  You know how much she loves Oktoberfest.  And you know what they DO at Oktoberfest!  Drink, drink, drink!  Beer after beer after beer.  Oh kiddies, how I didn't want to FAIL you!  But I was outManned!  And I had been doing SO WELL, had managed to soothe and calm her enough after Friday's entry to hit the gym.  She worked SO hard, I was as proud as a peacock.  Special thanks to Christina Aguilera's "Dirrty".  For some reason it stirred the sexy beast inside my mistress and she pounded the treadmill mightily, a blazing warrior queen off to re-claim her throne of Hotness.  It was Manificent!  So much so that Saturday found us there again, with nary a pep talk nor bribe needed.  We cheered her on, Talent and Ambition and I…we cheered her on…
AND THEN SHE WENT TO THAT BLASTED BEERFEST!!!  One day I must speak with these Germans.  Drinko de Mayo is hard enough to deal with.  Why have they saddled me with another plague de hooch?  Do they not understand the laws of Hotness?  Have they never seen George Clooney? 
And so this morning finds us at it again.  She was all "I don't wanna write!" and I was all "OMG, you HAVE to write!" and she was all "NO!" and I was all "YOU WILL, YOU WILL, YOU WILL!" and she's avoiding me like a mo fo, playing with the dog and doing the dishes and plucking her eyebrows and I have had it, completely HAD IT! and my hair is askew and my nails are chipped and bleeding, but my spirit is not broken, hell no, for this is an epic battle of Mantacular proportions and I intend to WIN!  She can spend the rest of her life hating me, but by all that is Hot in this world I intend to win!!!
We are off to the gym, so help me God.  We will see you Friday.  Oktoberfest, my ass…
Hot Manspiration of the Week:  Well, I couldn't leave this part out!  I suppose the one good thing to came out of hangover Sunday was the shot of Hotness that is Sam Worthington in Avatar.  Granted, he was a blue CGI creature for much of the film.  But the few fleeting moments of Sam as Actual Hot Man were worth it.  Word on the street is this bite of Mancandy also sports an Australian accent.  Love it!  We shall have to see more of him.  Without the blue.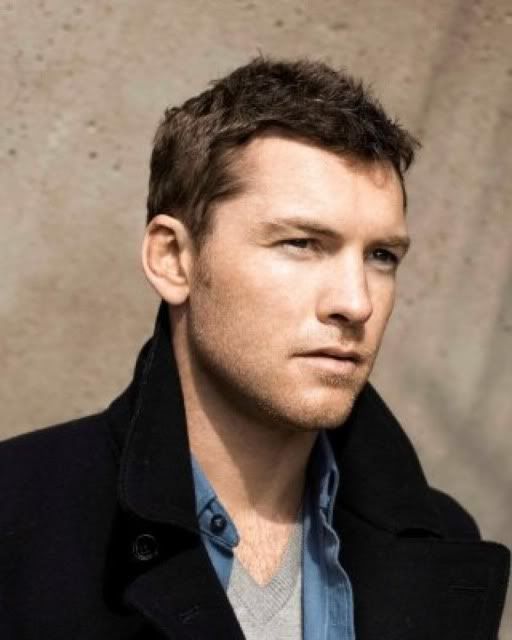 Leave a Comment