Week 2: down .5 pound (-1.5 pounds total!)  ** If it seems like I am making a slow start, I am not.  I actually started developing and following Hot Man Diet about 4 weeks before the launch of this site.  Including today's loss, my current total weight loss is 7.5 pounds, which is spectacular if I may say so myself! 
The week started off rocky (see My Apostrophe) but ended quite well.  Even a quick road trip to San Diego didn't push me off track.  There's something about vacations that usually brings out the snacker in me, but I was able to hold fast and tight to the goal at hand.  A funny moment - on the way to SD we stopped at a McDonald's to use the restroom.  My friend, who is on her own Post-Baby Diet, was waiting for me as I exited the restroom.  My stomach was growling; it was a perfectly imperfect moment to be surrounded by the aroma of french fries.  I looked at my friend.  She looked at me.  In unison we headed to the counter, prepared to order the delicious booty.  We would share them, we justified.  Traffic was horrible and lunch might be hours away.  Why the hell not?  Hadn't we both busted our asses this week working out?  Didn't we deserve a break?  Weren't we on vacation?!  As we waited in line - thank God for the line! - my mouth opened, spewing forth words I had ne'er heard before in this situation.  "We shouldn't!"  It came out like a murder confession after days of brutal interrogation, wavering but clear, unnatural but true.  I turned and ran.  I ran the hell out of that place so fast I nearly mowed down some poor, unsuspecting teen!  I ran and got in the car and never looked back, my friend joining me shortly thereafter, sans french fries. 
I did have time to note that the teenaged Man/Boy I ran into was pretty Hot…and before you get all "To Catch a Predator" on me let me state for the record - I would never mess with a teenager!  I am only pointing out the irony of it all…running into Hotness on the path to Hotness.  That's all. 
That is ALL!
Hot Manspirations of the Week:  Well, if the whole possible adultery situation hadn't come up, I would be shouting Alex Rodriguez's name from the rooftop, as that 9th inning Grand Slam and the gajillion other home runs he's hit this week are rocking my world and helping to put my boys back on track.  (Also, let's face it - homeboy is Hot!)  But the pics of him and the random blonde up in Canada aren't sitting so well on my stomach.  Even if it is all a misunderstanding, I am loathe to celebrate him at present.  So instead I'll give it up one more time for my man, one shining third of my Original Trifecta of Hotness, who also happened to deliver some key game winning hits this week.  Jeter, take another bow.  You're my Hot Manspiration of the Week.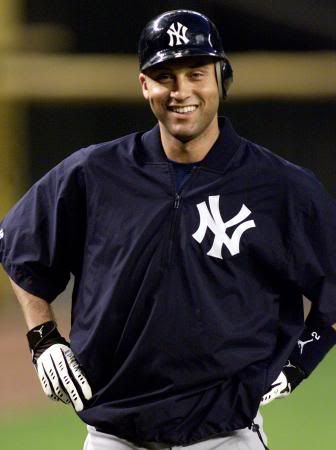 And let's hear it again for Tuesday's hero, Simon Baker.  (And let's give it up for this pic - that's quite an image to start the week off with, eh?) 
Damn.  We shouldn't, indeed!
Hot Man Diet Foes of the Week:  Hormones and french fries.  The good news - I went head to head with both of these foes and won!  I'm feeling pretty badass right now.  Let's see what next week brings…
5 Responses
Leave a Comment