Week 83: down 1 pound  (-63.5 pounds total!)
Talent:  Salutations and greetings, everyone!  It is SO very nice to finally meet you all.  We've heard ever so much about you, but it helps to put names to faces, does it not?  Please allow me to formally introduce myself.  I am Talent, the humble occupant of the left side of Her Hotness' chestal region.  Here with me today is Ambition, the titular yin to my yang.  Say hello Ambition…and do try to be civil.
Ambition:  WHATTUP PEEPS!!  YOU GUYS ROCK!
Talent:  Oh dear, 'tis as I feared.  Do pardon her.  She is a bundle of unbridled id.  But I suppose that's why we love her.
Ambition:  WE ALL ROCK!
Talent:  Ambition and I have been chomping at the bit lo these past 80 weeks to speak
to you all directly.  As Her Hotness is feeling a bit under the weather today, she finally relented and allowed us our moment in the sun.  I personally would like to thank her for this opportunity to speak on my own behalf, for I feel I have been crudely represented to all of you Hot Man Dieteers out there.  Before I step on my high horse, there is one order of business that must be attended to.  Last week was an exceptionally strong showing for my mistress, in spite of appearances.  HMD'ers, I have a secret to tell you.  Her Hotness has been keeping things from you!  I'm sure you've noted the lack of any sort of weigh in the past two weeks.  Well, she can play it off any way she wants, but the truth of the matter is she was ashamed and embarrassed.  I tried to convince her to see things otherwise, tried to get her to realize she's only human and that everyone, EVERYONE, gains weight over the holidays.  But she would have none of it.  She wants to be perfect for you all.  I think we know who to blame for that.
Ambition:  WE ARE BEAUTIFUL IN EVERY SINGLE WAY!
Talent:  Here's what happened - the last Monday in December Her Hotness did weigh herself.  She was up 5 pounds and was devastated.  I tried to console her, but my efforts were futile.  After a so-so New Year's week she got on the scale again last Monday to find she had lost 2.5 of those pounds.  Great news, a light at the end of that blasted holiday tunnel.  It was exactly what she needed, a gloriously swift kick in the butt, and next thing I know we ALL went to work!  Today may say only one pound down but now you know the whole story - our girl lost 3.5 pounds last week, is below her pre-holiday weight and is actually back to the lowest point she's ever been.  Woo hoo!      
I must say, when Her Hotness allows us to help we ALWAYS produce stellar results.  All humility aside, I am a whiz in the kitchen.  I know what to do with vegetables.  I can make healthy and delicious without breaking a sweat.  She needs to leave me to my magic more often.  ANYTHING I whip up at home is better than anything she will get elsewhere.  I hope she remembers that.  Please do remind her!  And Ambition…well, Imust be honest.  I am not always her biggest fan.  But last week she was a shining star!  Ambition, my most heartfelt congratulations on a job well done.
Ambition:  WE RAN!  WE JUMPED!  WE LUNGED!  WE PUSHED!  WE WORKED!  WE HURT!  WE ROCKED!  WOO HOOO!!!
Talent:  Yes, yes…even I must admit that this time you did indeed rock.  There is one more thing we must say.  I'd love to hog the microphone for this one, but I could never do it as much justice as my brash bra-mate.  Ambition…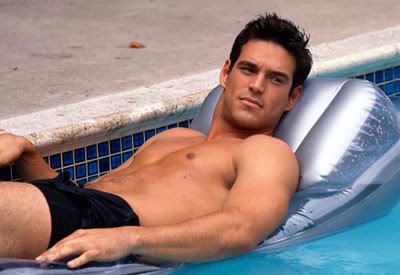 Ambition:  VIVA LA RESOLUTION!!
Talent:  Indeed!  
Ambition:  WE ROCK!
Talent:  That's enough.  HMD'ers, one quick thing before we go our lifted and separated ways.  I've heard tell that many of you have noted our shrinking presence, to which I say 1) you are correct, we are downsizing and 2) BACK OFF!  This is a VERY hard adjustment for us, as we have spent the better part of twenty years as Her Hotness' claim to fame.  We were her shining glory.  We were her omnipresent, cup runneth over companions, her knockers, her gazongas, her cans, her jugs, her melons, her tatas, her rack!  But now she is losing us…and she's happy about it!  Just the other day she told someone that she thinks her best feature is her…it pains me to say it…SMILE!  Oh curses, curses to the cruel god that would make a woman lose her breasts but keep her hips!  Why?  Why God, why?
Ambition:  WHY?!
Talent:  But fear not, Hot Men of the world.  We may be down a cup, but we are NOT out!  So long as there is breath in me, so long as I am still a quality handful, I will be here, valiantly standing erect and strong.  And though I may be small(er) in stature, my presence will ALWAYS be mighty!
Ambition:  WE ARE MIGHTY!  WE WILL KICK YOUR ASS!  WE WILL TAKE YOU DOWN AND SMOTHER YOU IN OUR KILLER CLEAVAGE!  WE'RE NUMBER ONE!  WE'RE NUMBER ONE!  
Talent:  Perhaps this is an appropriate moment to point out that I am the larger of the two…
Ambition:  WE'RE NUMBER ONE!  WE ROCK!!!  KNOCKERS OF THE WORLD, UNITE!
Talent:  Oh dear.  I fear she will never let us speak again…
Ambition:  VIVA LA RESOLUTION!!
Hot Manspirations of the Week: 
Talent:  I suppose we should take care of this for her, as well.  She's off cutting veggies or pre-portioning snacks or something of that ilk.  We shant disturb her.  But I am sure she'd want us to pay appropriate homage to the two Hot Men she featured last week but failed to mention by name.  Ambition, please do the honors…
Ambition:  JOSH HOLLOWAY AND EDDIE CIBRIAN!  TWO OF TELEVISION'S HOTTEST HOT HOTTIES!  LOVE THEM!  WANT THEM!  NOW!
Talent:  Yes, they are Manificent.  Lost and Ugly Betty have never looked so good, have they?  Why, they're the best looking pair we've seen since…well, us!
Ambition:  WE'RE HOT!
Talent:  And they're Hot.  Definitely worthy of a second look.  And for good measure, Ambition and I have decided to add one Mr. Brad Pitt to the mix.  We find him unerringly good looking, but for some reason Her Hotness has never given him a proper HMD shout out.  Not sure why, though I suspect it has something to do with the missus…
Ambition:  BRAD PITT IS HOT!  WE'LL TAKE DOWN ANYONE WHO SAYS OTHERWISE!!  WE'LL TAKE THEM DOWN AND SMOTHER THEM IN OUR…
Talent:  Yes, yes, we get the point.  All righty then.  We hope you are all properly Manspired.  We're off to catch up with boss lady.  Oh dear.  The soy breakfast patties have just come out!  She means business.  This should be a good week! 
Ambition:  TOFU ROCKS!
Talent:  It has been my absolute pleasure speaking with you all today.  Have a fantastic week.  I hope we meet again and soon!  Ambition, say goodbye to all the lovely people.
Ambition:  WE ROCK!
4 Responses
Leave a Comment