Week One: down 1 pound!
Well, well…something tells me I'm into something good…
My first week on Hot Man Diet and I will be honest, there were some definite ups and downs (oh alcohol, why must thou tempt me so?!)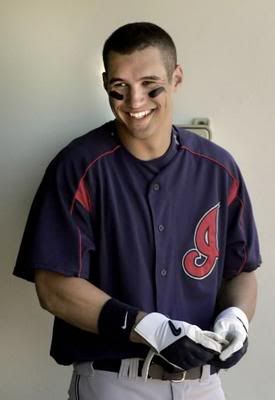 The thing that was most remarkable for me was how easy it was to notice and be inspired by Hotness.  It seemed to be everywhere.  There was the lunch conversation about the staggeringly Hot Cleveland Indians outfielder Grady Sizemore, a conversation that surely prevented some less than desirable afternoon snacking.  There was Waitress, the movie I saw with a friend Friday night that starred the yummily Hot Nathan Fillion, whose glorious visage eliminated my desire for a late night sweet treat.  (He is the only man Hot enough to ever get me to watch science fiction…if you've never seen Firefly or Serenity get thee to a place where DVD's are rented or sold and rent or buy them!) There was the Hot Man at Trader Joe's who caught my eye, which had been previously fixed on the chocolate bar with whole hazelnuts that is cruelly placed smack dab in front of the checkout counter and that is sinfully tasty…luckily, this stylishly blond Hot Man in the expertly tailored suit was tastier.  Crisis averted.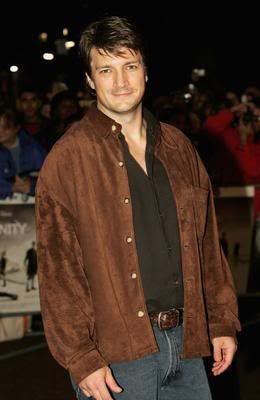 Isn't inspiration a many splendored thing? 
For those of you who were adventurous enough to check out the About section of this site, you already know about "Hot Manspirations".  (For those who haven't read it, do so now!  It is an epic work of literary wonder condensed into one small paragraph of sheer effing brilliance…for reals, yo.)  Be prepared to be inundated with Hot Manspiration talk.  I've said it before and I will say it again, inspiration is at the very core of what makes Hot Man Diet work.  The trick is to let it really seep in, so much so that it alters your decision making process.  I recognize that this is easier said than done, but practice makes perfect, eh?  The old me would sit and watch The Biggest Loser while eating a big ass meatball sandwich.  The new me is pre-occupied with the pursuit of Hotness, both my own and the Hotness of those around me.  The former is all to do with what is wrong, what must be changed, what cannot be accepted.  The latter celebrates that which is good and excitedly looks forward to what is to come.  Which choice do you think is healthier? 
Hot Manspirations of the Week:  Lots of 'em this week – there's my OTH (Original Trifecta of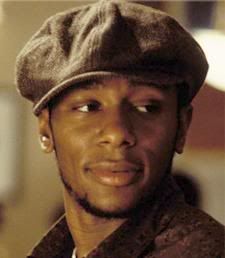 Hotness) who rock my world on an almost daily basis, there are the three Hot Men mentioned above, as well as an additional duo of Hotness, the crazy talented Mos Def and the uncommonly good-looking Common.  (Can you tell I just rented Dave Chappelle's Block Party?  It is an EXCELLENT movie, by the by…if you've never seen it, well, you know what to do.)
Hot Man Diet Foe of the Week:  I am steadfast in my refusal to let this site become a bitch session of sorts, where I rail about how unfair society is or how unfair my life is or anything equally whiny or annoying.  I will, however, use this section to point out any person, place or thing whose sole existence seems bent on destroying my weight loss efforts.  This week's HMD Foe of the Week is the office environment.  You feel me, right?  I work with wonderful, generous, good-hearted people who, in their wonderful generosity, flood my workspace with culinary delight after culinary delight.  Damn them!  Damn them all to hell!  Three o'clock in the afternoon is a viciously vulnerable time to be near pastry.  Why can't they be mean and selfish like me and keep their goods to themselves?  Why!?!   
6 Responses
Leave a Comment