Week 55:  up .5 pounds (-52.5 pounds total!)
Good afternoon, kids!  Yet again, Her Hotness is showing up to the party a tad late…let's just call this one fashionably late and then let's kiss and make up and re-focus on the Hotness…I've got a bunch in store for you today!
As for that minor blip in my weight-dar, fear not dear HMD'ers.  Two words: wine tasting.  A few more words to explain what in the hell that means: I spent the weekend up in Santa Barbara county with my gal pals (the best peeps ever!) visiting vineyards and throwing back some grape hooch.  Good times, good times!  And we all know that with good wine comes good food, so maybe I wasn't as strict with myself as I usually am.  No worries, kids, no worries.  
(Also, maybe I continued the party well into last night…and maybe I'm completely hung over today and wishing that I could take my head off for a while, at least until it stops trying to kill me…and maybe I'm totally talking myself out of a Taco Bell run, because let's face it, some tacos would be effing good right now…and maybe I'm still a little peeved at the pack of Hot young Norweigan boys that were staying at our motel in Solvang…because maybe at least one of them should have tried to make out with me!…and maybe I'm over it because maybe last night Venice was a veritable Hotbed of Hotness…and maybe, just maybe this third cup of coffee will calm the evil forces currently o'ertaking my noggin…someone bring me some tacos!)
Anyhoo…
Hot Dads.  Is there anything Hotter than a Hot Dad?  I think not.  Fatherhood turns mere Hot Men into Hot Manspirations, all loving and Hot and caring and Hot and doting and Hot…particularly those Hot Dads who really seem to love their parental tasks…we enjoy them more because of the devotion they bring to their little creations…we see their commitment and their passion and their attentiveness and it makes us swoon…and while we would never want to invade their family circle, we can't help but wish we were the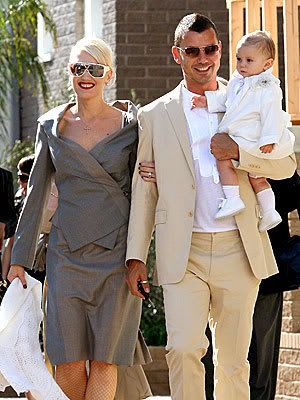 women by their sides…we did it last year and now 'tis time to do it again…a salute to some of our favorite Hot Dads.  Happy Father's Day!
The Hollaback Hot Dad
Gavin Rossdale has been in my Hot Manspiration mix for over a year now, yet he's never actually made it on the site.  Why?  I dunno.  Call it stupidity, call it an egregious oversight, call it whatever you want…fact is, he should have been here ages ago.  But good things come to those who wait.  Cause Gavin is HOT.  Like smack-yo-mama Hot!  There's that accent (panty dropper!), there's that body (tall and built, a soccer physique), there's the hair (long and curly and Hot or short and buzzed and Hot)…and then there's the fact that he's picked one of the coolest women in the world to be his wife and baby mamma, when he could have had any number of anonymous, boring model waifs.  Kudos, Mr. Gwen Stefani.  Kudos!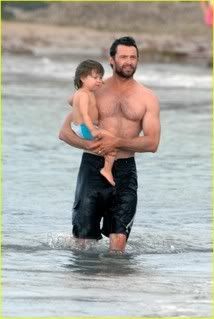 The X-Factor Hot Dad
Hugh Jackman is another Hot Dad who has not nearly received the HMD attention he deserves.  He showed up as a Request and Dedication last year, but has fallen off our Mandar in recent months.  Bad Leah, very bad Leah!  Hugh Jackman is an unconscionably good looking man!  His arms alone provide oodles upon oodles of Hot Manspiration…almost enough to keep one from away from wine tastings for quite a few months (my liver is currently lobbying for the same thing).  And here's another one who could have easily traded in his wife for a younger, sleeker version but instead decided to adopt two babies on the (thankfully) quiet tip.  (I'm talking to you, Angelina.)  Another lovely move from this loveliest of Hot Men…sigh…Manspiration, indeed…
The Romantic Hot Dad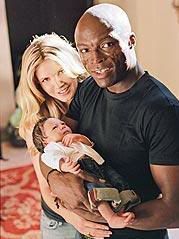 Don't say it.  Don't even think it.  Don't try and tell me that Seal isn't Hot.  Don't!  Back it up, sit down, shut up and listen to me - Seal IS Hot.  Smoking Hot.  His is a Hotness independent of physical perfection…'tis a Hotness born of character, a Hotness that shines from the inside out (though that ridonkulous bod doesn't hurt), built on the rocks of a rough childhood and then released through his almost slavish devotion to his physically perfect wife and their twelve million babies…it as if the Big Director in the sky said, "Let's reshoot that life once more with feeling," because Seal feels.  He wears his heart on his sleeve just as clearly as he wears the scars on his face and it works.  Oh my, does it work.  If you don't believe me, just ask Heidi…she seems awfully satisfied…
The New Hot Dad on the Block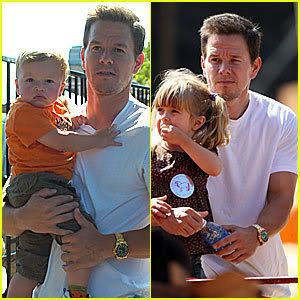 Yes, he's become a fantastic actor.  Yes, he's become a really good producer with a great eye for material.  Yes, he was nominated for an Oscar.  But he'll always be Marky Mark to me!  Picture this:  Harrisburg, PA, circa 1991 (or so)…Her Hotness, in the full throes of adolescent awkwardness, goes with a friend to see Marky Mark and the Funky Bunch at Club Met on Cameron St.  A small venue, to say the least, puts the two lasses ever so close to the stage.  Enter a tank top clad Mark Wahlberg, bringing good vibrations to every female in the hizzy.  End song one.  Tank top comes off.  Another thirty five minutes of a topless future Oscar nominee puts Her Hotness in a tizzy….I didn't know a chest could look like that…could be SO well built, SO ripped, SO perfect…I would never be the same…
The Return of the Hot Dad
Ben Affleck, you almost lost us.  Seriously.  We were such big fans, what with Good Will Hunting and your hilarious turn in Shakespeare in Love.  Such promise!  But then you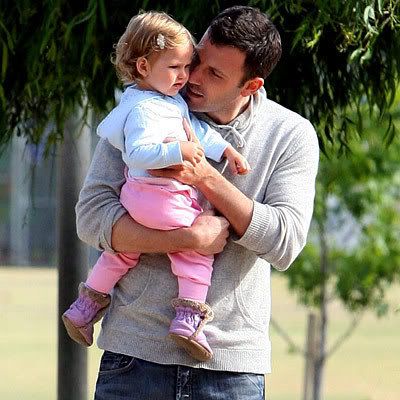 faltered.  You started to believe the hype.  You wanted to be the Biggest Movie Star EVER, or so it seemed, and your choices suffered for it.  (I still want my money back for Pearl Harbor!)  The movies sucked, you seemed incredibly full of yourself, and the whole Bennifer fiasco seemed to put the final nail in the coffin…but wait…was there actually more to you than covers of US Weekly and poker tournaments in Vegas?  Could you really get back to the heart of the matter and find yourself again?  Would your second chance be built upon the solid foundation of the love of a much better Jennifer?  Would it include co-producing the smiliest baby ever conceived in Hollywood?  And, even more importantly for those of us who believed that you deserved that Oscar lo those many years ago, would you really become the filmmaker we've all been waiting for?  Well, well…I guess we were wrong to write you off so soon.  Keep fighting the good fight!  We need your Manspiration.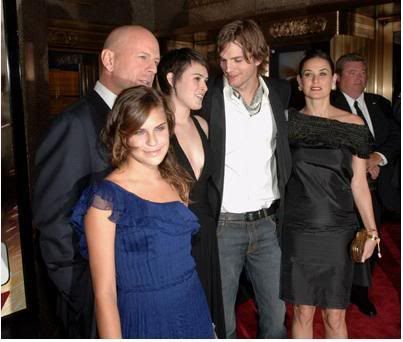 My Two Hot Dads
You know, the Willis/Moore/Kutcher clan is truly remarkable.  And quite Manspiring.  That Mom and Dad could separate and remain friends is a feat in and of itself.  That Mom could turn around and snag herself a Hot Young Stud is awesome!  That Hot Young Stud and former Hot Young Stud turned Hot Dad could become friends…that defies almost all of the laws of logic.  And it makes for one of the Hottest unconventional families we've ever seen. 
To all of the Hot Dads in the world, I wish you a very Happy Father's Day!  Thank you for being Hot, thank you for being Dads!
One Response
miss gee Says:
June 20th, 2008 at 7:37 am

This list is tight.

I still lose control when I hear Machinehead on the radio. That was as thrashing as I got musically, (shut up), but Gavin did something to me that Jackson Brown didn't. He made me want to yell.

Props to all the other piping hot fathers featured. One thing. Where's my Becks, boo?

Dearest, your Becks was featured in last year's Hot Dad Tribute. I was trying ever so hard to not repeat myself. Fear not - he's still as Hot as Hades, and shall be on HMD again.
Leave a Comment