Week 87: up 1.5 pounds (-63 pounds total)  Aw nuts.  Nuts!  Okay, okay, okay…this too shall pass…mostly because I'm gonna make it pass…let's work, it's time for work, mama's got some WORK to do! 
Hey ya'll!  Good morning.  How was your weekend?  Am I forgiven for last week's late showing?  I hope so. 
You know, I've been thinking a lot lately about singlehood.  Yet I haven't really talked about it much with you guys.  Not sure why, though I have my suspicions.  For one thing, I really don't want to dilute HMD's main purpose - the use of complete and unabashed adulation of Hot Men to further one's health and wellness goals - with a bunch of mamby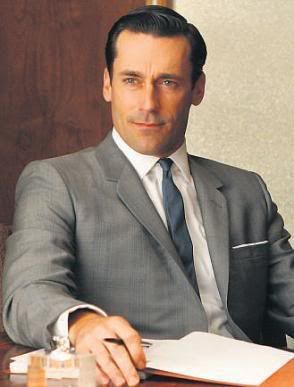 pamby, Bridget Jones-esque diatribes about the plight of the single woman.  Hells no!  I an NOT that girl.  Don't get me wrong.  I loved me some B.J.'s Diary.  Colin Firth and Hugh Grant together?  Pantydropper-accent bliss!  But that was that and this is Hot Man Diet.  HMD's a whole 'nother Oprah.
And so when I tell you that I want to give a shout out to all the single ladies (now put your hands up!) I need you to realize that I do NOT intend for this to be some kind of gynocentric, Lifetime Television for Women moment.  There are no drum circles, no vaginas, no monologues, no Herstory.  And I assure that at absolutely no moment, and this I swear on my life, at NO moment will there be scrapbooking.
No.  I want to give a shout out, a Hot Man Diet shout out, to all the single ladies (now put your hands up!) because there's something I need to say that I haven't said nearly enough  - YOU ARE HOT.  The boys, oy but I tell them all the danged time how much Manjoyment they bring me.  But you gals…I ignore ya.  My bad.  Guess what?  You're Hot.  Y'are, y'are, y'are.  Hot Men, listen up.  It's kind of rough being a single lady nowadays.  You guys, you're all Mancandy, yummy and sticky and sweet, but us gals…we're all soft parts and soft hearts just trying to make it through this world with fabulousness intact.  We're putting ourselves out there on the line and online, willing, ready and open, checking all crazy neuroses at the door and bringing instead goodness and light - a warm smile, a friendly laugh, a flirty eye, a tender hand.  We're SO worth it, aren't we?  And yet…if only it were that easy.  If only… 
So I want to give a shout out to all the single ladies (now put your hands up!) because I am one of you.  And this week we just need a freaking pat on the back, don't we? 
Actually, screw that.  Screw a pat on the back.  We're not victims!  We're not babies!  This shout out is for us because we rock!  We're awesome.  We're funny and caring and we can drink like sailors and cuss like schoolboys and we're whip smart and wicked talented and we remember birthdays and we throw great parties and we have killer arm muscles and can quote Blazing Saddles and we make a mean creme brulee and the best damn coconut cupcakes you'll ever, EVER, have in your life and we hurt and we help and we hear and we laugh and we listen and we love and we rock and we rock and we rock!!
Did I mention that we rock?
Hot Manspiration of the Week:  I know ya'll have heard all the ranting and raving about AMC's Mad Men.  It's won umpteen awards and all kinds of praise and yet I've never seen it.  My loss, right?  'Cause when I tuned into my weekly Hour o' Happiness (aka The Office and 30 Rock) there was a most Mantacular vision on my screen…besides some of the best laughs I had all week, 30 Rock provided Manspiration of the most divinely fine looks I have seen in quite some time…the Manttraction was immediate and intense, cheeks flushed, heart pounded, hands lunged for glasses so that eyes could drink in the Hotness…holy crap!…the Hotness.  Hot Man Dieteers, meet Jon Hamm.  Damn…