Yeah, yeah, you caught me!  It is indeed December 1st, and I am late in trotting out this month's HMD R & D.  Pray forgive me, for I can offer up no excuse for my tardiness…all I can offer is the Hotness…so enjoy…and forgive…and ENJOY!
Let us begin with a gentleman that MANY people have been clamoring for since the first HMD R & D - Mark Ruffalo.  I am dedicating his appearance today to A. in the Valley,
although the actual request came from her sister-in-law T., a great friend of mine.  A.  loves Mark Ruffalo.  T. loves Mark Ruffalo.  I love Mark Ruffalo.  My grandmother loves Mark Ruffalo.  (I have added and re-added Just Like Heaven to her Netflix list MANY times.)  Women love Mark Ruffalo.  Why?  He's incredibly talented, for starters (and again, talent is one of the main components of effective Hot Manspiration).  You Can Count On Me was the film that launched his career - watch it and you will never again question Mark Ruffalo's Hotness.  A wonderfully sensitive portrait of a wonderfully flawed and pained character started the film career he rightfully deserved.  To be honest, I have a sneaking suspicion that Mr. Ruffalo wishes he weren't such a dreamboat, because he is much more of a smolderingly sexy character actor than Hollywood will let him be.  He's fighting the good fight, to be sure, taking smaller, more interesting roles rather than romantic comedy after romantic comedy (although…and I can't believe I'm saying this out loud, I LOVE 13 Going On 30!!  I do!  And I adore him in it!).  Mark - we love ya babe!  Congratulations - you're A.'s Hot Manspiration of the Month. 
My next request comes from P. in Woodland Hills.  As she simply states, "Enrique Iglesias is my Paul Walker."  Say no more!  Ya'll know that I have a thing for Paul Walker, a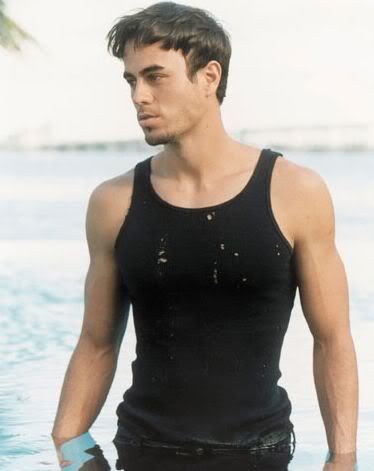 hardcore, major thing for Paul Walker.  I think he's as Hot as Hades, but I am constantly shamed by my Manjoyment of him.  But I'm here to speak the truth, and in this case the truth is thus - we ALL have a Paul Walker!  We all have that certain someone who moves us from the inside out for no reason we can truly verbalize save for this easiest of compliments - he's Hot!  We all have that someone that we yearn for in secret, on the down low, under the covers with a flashlight and the shades drawn.  We all have that someone that we DO NOT bring up in good company else we lose our credibility amongst our friends.  Well, ladies and gents, enough is enough!  Manificence is a rare thing to behold, a rare thing indeed, so when we do we should scream from the rooftops…Enrique Iglesias is HOT!  Damn HOT!  He's a cheeseball, but he's HOT!  He dates idiots, but he's HOT!  He thinks he's god's gift to women, and he's a lil bit right cause he's HOT!  And no, he'll never crack the fortress of talent, hots and humility otherwise known as my Original Trifecta of Hotness (the only person seriously threatening to make that trio a foursome is Gerard Butler…sigh…), but did I totally stop and stare when he was on America's Next Top Model?  Hells yeah!  (ANTM is one of my abso fave shows…here's the video he shot with the ladies…by the way, how PISSED am I that the stripper from Jersey is gone!)  So for P. in Woodland Hills, I give you Enrique Iglesias.  See him.  Love him.  Manspiration is Manspiration, whene'er and howe'er it comes.  Don't fight it!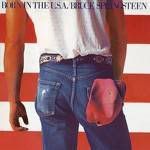 Last but certainly not least, we have a legend for a legend.  Miss Gee has been one of HMD's most loyal, most vocal, and most passionate supporters from the moment the Hotness began.  Her commentary is often more entertaining than the entries themselves, so how, HOW could I not include her very first HMD R & D?  I admit, her choice gave me pause.  This particular dude doesn't move me in me lady parts, he doesn't set my heart a-flutter or make my stomach flip.  What he does is make music, the kind of music that leaves a gal like Miss Gee happily stranded on Manspiration Highway.  She writes, "The Boss.  Talented.  Classic.  Sexy.  A rock 'n roll icon for the mothertrucking ages, man.  Writes things like 'I'll prove it
all night, I'll prove it all night, baby, I'll prove it all night to you,' and 'I got a bad desire, Ooo Ooo Ooo I'm on fire,' and 'I'll love you with all the madness of my soul. WHOA.'  Whoa indeed.  Whoa.  Wow.  What. A. Rock. Star."  Clearly, I could not have said it any better.  What a rock star, indeed!  (I think my lady parts just moved!)  Bruce Springsteen - the badass with a nice ass, making his way into our tunnel of love with his haunting lyrics and jaggedly perfect voice…Miss Gee's Hot Manspiration of the Month, nay, of her LIFE!  How perfect!